Apple Cinnamon Pancake Recipe
Ingredients
2 cup: Biscuit mix
1 scant teaspoon: Ground cinnamon
1 no: Egg
1 1/3 cup: Milk
3/4 cup: Grated apples, about 2 medium apples
For Cider Syrup
1 cup: Sugar

2 tablespoons: Cornstarch
1/4 teaspoon: Cinnamon
1/8 teaspoon: Nutmeg
2 cup: Apple cider
2 tablespoons: Lemon juice
3 tablespoons: Butter
Method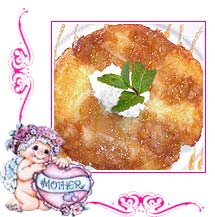 1.Combine biscuit mix, cinnamon, egg and milk; beat until smooth. Stir in grated apples.
2.Grease large skillet or griddle and heat over medium heat. Pour batter, about 1/4 cup for each pancake, onto hot griddle.
3.Bake until bubbles appear around the edges, turn and bake other side until golden brown.
4.Serve with warm cider syrup. Your apple sauce topping pancakes are ready

For Sauce:
1.In saucepan, combine sugar, cornstarch, cinnamon and nutmeg; stir in apple cider and lemon juice.
2.Cook over medium heat, stirring constantly, until mixture thickens and begins to boil. Continue to boil, stirring, for 1 minute.
3.Remove from heat and stir in butter. Makes about 2 1/2 cups of syrup.