Mothers Day Crafts
Hey! Express your love for your mother with some creative crafts this year. Here are some simple and easy craft ideas on Mothers Day for kids. So what are you waiting, go ahead and show how much you love your mommy with cute little cards and handicraft made just by you for your sweetest mommy.
A Tip: Children may add a touch of affection for their mother and creativity while implementing these Mother's Day projects and make these ideas personalised. Remember Mama's are going to love anything made with love by their little ones!!
List of Mothers Day Crafts
Butterfly Card for Mother's Day
A colorful butterfly card made from construction paper. This card is great for birthdays, Mother's Day, or other occasions.
Things Needed
Construction paper
Hole punch
Scissors
Glue stick
Pencil
Markers or crayons
Optional: Glitter glue or glitter
Method
1. Fold two pieces of construction paper in half, making two card shapes.
2. Put the two folded cards together (one inside the other).
3. Along the fold of one of them, draw half a butterfly.
4. Keeping the two cards together, cut along the line you just drew. You will now have two butterflies.
5. On only one of the butterflies, fold it in half again and draw a smaller butterfly within it.
6. Cut along the line you just drew.
7. Using the hole punch, make a series of holes along the edges of the two pieces you just cut.
8. Glue one of these pieces onto the larger, uncut butterfly.
9. Flip the large butterfly over, and glue on the other cut piece.
10. Cut a black or brown body for your butterfly. Glue it onto the inside of your butterfly.
11. You now have a nice butterfly card. Write a message on your card.
12. Optional: Decorate your butterfly with crayons, markers, glitter glue, or glitter.
Scary Mouth Pop-up Card for Mothers Day
Make a Mouth Pop-up Card. When you open the card, the mouth opens! You can make your card look like a bird, a shark, or a big-mouth monster. This is a very easy project and a lot of fun.
Things Needed
2 pieces of paper (colored card-stock works great)
Scissors
Paste
Crayons and/or markers
Method
1. Fold a piece of paper in half. Cut a line about 2 inches long (5 cm) about the middle of the crease.
2. Fold back each of the flaps to make 2 triangles.
3. Open up the card.
4. Lay it down like a V.
5. Push one of the triangles up and pinch the edges together above the card.
6. Repeat with the other triangle.
7. Close the card and push down on the folds to make them well-creased.
8. When opened, you have a pop-up mouth.
9. Fold another piece of paper in half (a different color looks great).
10. Glue this new card to the outside of your pop-up card. Don't glue near the mouth area or it won't open! Let the glue dry.
11. Draw a scary animal around the mouth and finish decorating your card.
12. For variations on this card, don't cut a straight line - cut a wavy line or a zigzag for scary teeth. You can even make more than one mouth for 2 monsters or a two-headed monster. This pop-up area also looks a lot like a bird's beak or a shark's mouth.
Tissue Paper Flowers Craft for Mother Day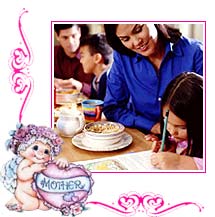 These flowers are made from folded tissue paper (crepe paper). You can make an entire bouquet of them for a great gift or decoration.
Things Needed
Tissue paper (crepe paper)
Green pipe cleaners (or twist ties)
Method
1. Cut a few pieces (about 4-6) of tissue paper (crepe paper) about 8 x 10 inches (the exact size doesn't matter).
2. Put the paper in a pile and fold it like an accordion.
3. Tie the center of the folded paper with a green pipe cleaner (or twist tie).
4. Gently pull each piece of paper towards the top center of the flower, separating each sheet of paper from the others (forming the petals of the flower).
Family Collage Craft on Mother Day
You can make a great family collage by cutting out pictures of family members and gluing them to poster board. Older kids can write descriptions to accompany their collage.
Things Needed
Family photos
Thick paper or posterboard
Scissors
Glue
Markers (to decorate your collage)
Method
1. Cut a variety of pictures of family members from photos. Make sure you ask your parents before you cut any photos!
2. Glue the pictures onto the paper or posterboard.
3. Decorate the collage using markers.
4. For older kids: Label the pictures and write the dates and descriptions of what the people are doing.