50 Inspirational Quotes on Mother's Day
A mother is an angel walking in human form on Earth to take care of human beings who needs somebody to look after them. She is the most selfless person in this world who always keeps her family before her and considers a top priority. Her children are her biggest possessions which she always wants to keep in front of her eyes and bestow them with good morals and values which will make them responsible individuals in the near future.
Mother's Day is an international event which is celebrated worldwide with magnificence and a full heart. This day commemorates the contributions and sacrifices a mother makes for his children and the entire family. Every mother holds a special in her children's heart and they eagerly wait for this splendid occasion to bestow their love and gratitude on them through Mother's Day gifts along with heartfelt Mother's Day quotes. Every word stated in these quotes together decodes every silent feeling that a child hold in his or her heart for his or her mother. They are extremely emotional and inspirational, and strengthen the bonds of children with their mothers.
Mother's Day Inspirational Quotes for Moms
Shower your mother with unlimited surprises with a final touch of heartfelt quotes on mothers written on them. Every word of these quotes will make your mother feel extremely lucky to have a child like you.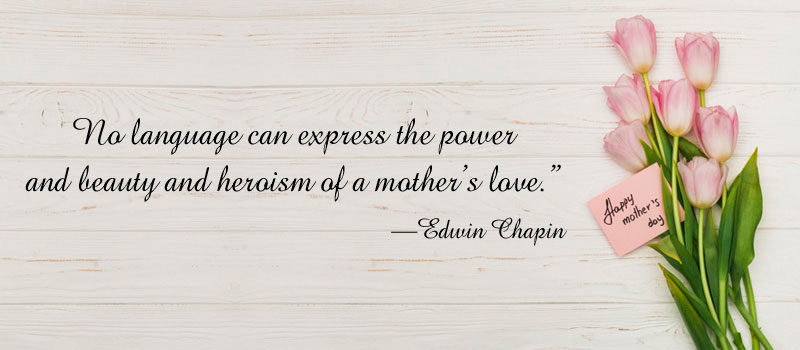 "I got to grow up with a mother who taught me to believe in me." - Antonio Villaraigosa
"Mama was my greatest teacher, a teacher of compassion, love and fearlessness. If love is sweet as a flower, then my mother is that sweet flower of love." - Stevie Wonder
"A mother's happiness is like a beacon, lighting up the future but reflected also on the past in the guise of fond memories." - Honore de Balzac
"God could not be everywhere, and therefore he made mothers." - Rudyard Kipling
"A mother's arms are made of tenderness and children sleep soundly in them." - Victor Hugo
"Mother is the name for God in the lips and hearts of little children." - William Makepeace Thackeray
"All that I am, or hope to be, I owe to my angel mother." - Abraham Lincoln
"To describe my mother would be to write about a hurricane in its perfect power. Or the climbing, falling colors of a rainbow." - Maya Angelou
"A mother is the truest friend we have, when trials heavy and sudden fall upon us; when adversity takes the place of prosperity; when friends desert us; when trouble thickens around us, still will she cling to us, and endeavor by her kind precepts and counsels to dissipate the clouds of darkness, and cause peace to return to our hearts." - Washington Irving
"No language can express the power and beauty and heroism of a mother's love." —Edwin Chapin
Mother's Day Inspirational Quotes for Grandmothers
Everyone likes to hear Grandma's stories by keeping heads on their knees. After mother, it is the most peaceful place where all negativities of the world seem to fade away. Applaud your grandmother's love and amazing delicious food with these beautiful Mother's Day quotes.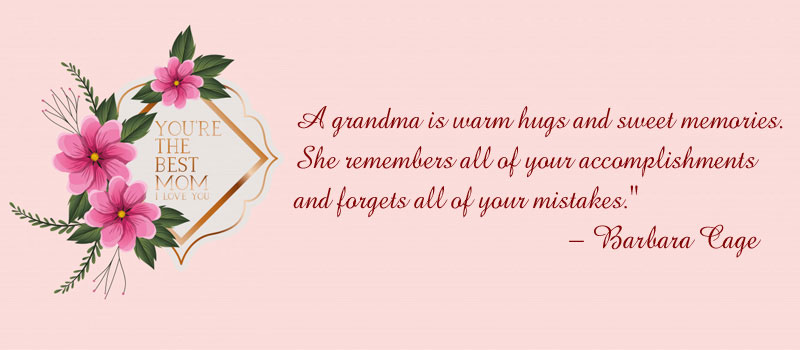 "Grandmothers always have time to talk and make you feel special." - Catherine Pulsifer
"A grandmother is a little bit parent, a little bit teacher, and a little bit best friend." – Anonymous
"Grandmas never run out of hugs or cookies." – Unknown
"A grandmother is a remarkable woman. She's a wonderful combination of warmth and kindness, laughter and love." – Unknown
"A grandma is warm hugs and sweet memories. She remembers all of your accomplishments and forgets all of your mistakes." – Barbara Cage
"Grandmother: A wonderful mother with lots of practice." – Unknown
"Grandmothers are voices of the past and role models of the present. Grandmothers open the doors to the future." - Helen Ketchum

"It's such a grand thing to be a mother of a mother, that's why the world calls her grandmother." – Unknown
"Nobody can do for little children what grandparents do. Grandparents sort of sprinkle stardust over the lives of little children." - Alex Haley
"Grandmothers and roses are much the same. Each are God's masterpieces with different names." – Unknown
Mother's Day Inspirational Quotes for Mother-in-Laws
She might not be your real mother, but exceptionally dons the role of one with her immense love and care. Having a lovable and warm mother-in-law is a big blessing in today's world. So, make her feel special this Mother's day with gifts demonstrating heartiest Mother's day quotes that perfectly goes well with their personalities and nature.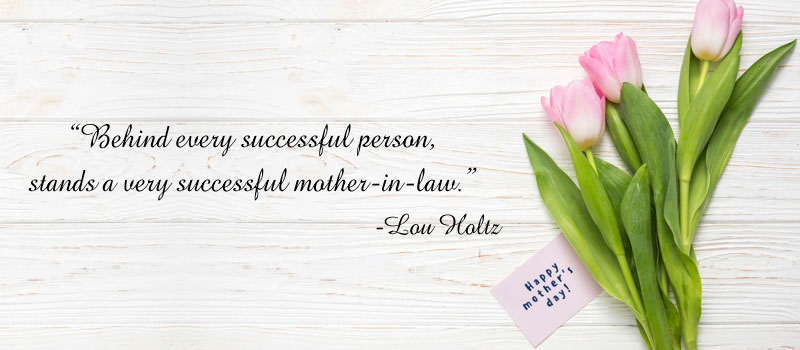 "A mother gives you a life, a mother-in-law gives you her life." ― Amit Kalantri
"Every successful child is the product of an enthusiastic mother." -Reed B Markham
"Marriage made us family, love made me your daughter." – Unknown
"My mother-in-law you may be, but a friend in you I'll always see." – Unknown
"A daughter-in-law cannot be perfect by herself. A beautiful mother-in-law helps her to be one" – Unknown
"A man who treats his woman like a princess is proof that he has been born and raised in the arms of a queen." – Unknown
"Behind every successful person, stands a very successful mother-in-law." -Lou Holtz
"You raised your son to be a responsible and loving man. And now, I will teach our children the same. Thanks you for being an inspiration." - Unknown
"How blessed we are, how fortunate we've been. That you are his Mother, and also my friend." – Anonymous
"I am happy every day because of the way you raised your son, the most amazing man I have ever met, and how you accepted me into your family." – Anonymous
Mother's Day Inspirational Quotes for Sisters
Having a sister is like having a best friend in life. She is secret keeper, your confidant who knows you inside out. This Mother's Day, let your sister know your deep love and affection you hold for her in your heart through these enchanting Mother's Day quotes.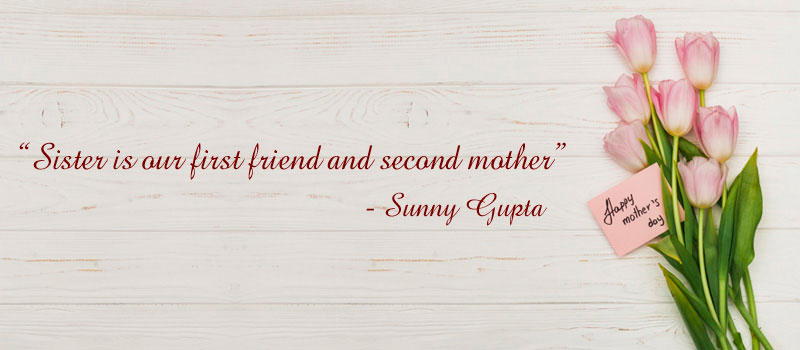 "A sister is a gift to the heart, a friend to the spirit, a golden thread to the meaning of life." – Isadora James
"An older sister is a friend and defender – a listener, conspirator, a counselor and a sharer of delights. And sorrows too." – Pam Brown
"Sister is our first friend and second mother" - Sunny Gupta
"She knows every chapter of my life,
As she is the second mother of my life. She helped me to Grow, As she taught me everything she Knows.
She is my "Pain Taker".
She is her "Fortune Giver".
She is my SISTER." – Renu Chaudhary
"A sister is a gift to the heart, a friend to the spirit, a golden thread to the meaning of life." – Isadora James
"Big sisters are the crabgrass in the lawn of life." – Charles M. Schulz
"Sisters function as safety nets in a chaotic world simply by being there for each other." - Carol Saline

"Having a sister is like having a best friend you can't get rid of. You know whatever you do, they'll still be there." – Amy Li
"A sister is God's way of proving He doesn't want us to walk alone." – Anonymous
"Husbands come and go; children come and eventually they go. Friends grow up and move away. But the one thing that's never lost is your sister." - Gail Sheeny
Mother's Day Inspirational Quotes for Friend
"A friend in need is a friend in deed." This amazing line beautifully portrays the essence of true friendship. When friendship is a long one, it becomes a relationship that is cherished forever. Wish your stunning friend a very Happy Mother's Day with these heartfelt quotes which will magnificently strike the chords of their hearts.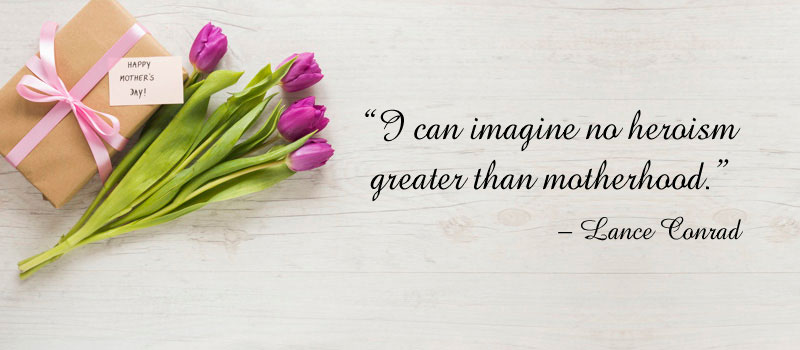 "I can imagine no heroism greater than motherhood." – Lance Conrad
"The bond between mothers and their children is one defined by love. As a mother's prayers for her children are unending, so are the wisdom, grace, and strength they provide to their children." – George Washington
"To the world, you are a mother, But to your family, you are the world." – Unknown
"When in doubt, choose the kids, there will be plenty of time later to choose work." – Anna Quindlen
"Motherhood is one of the loveliest things a woman can wear." – Unknown
"The most precious jewels you'll ever have around your neck are the arms of your children." – Anonymous
"Mother's Day is about ... recognizing the act of mothering everywhere we see it ... when we listen, nurture, nourish, protect - we're doing sacred work." - Shauna Niequist
"No language can express the power and beauty and heroism of a mother's love." - Edwin Hubbel Chapin
"A mother is she who can take the place of all others but whose place no one else can take." - Gaspard Mermillod
"Mothers hold their children's hands for a short while, but their hearts forever"- Anonymous