Mother's Day Books
Mother is such a special human being in one's life that it becomes difficult to explain it in words. But still many authors and writers have made their best by creating Mothers Day books. Books on Mothers day can be used as a perfect gift to express heartiest feelings and love for mom. A plethora of options are available in the market to make the best choice for motherhood books. Some books explain the relationship that a mother and child share, thoughts of mothers while other contains stories exclusively meant for kids.
Mothers Day Books by Foreign Authors
The Adventures of Mighty Mom: It is a beautiful book written by Gwendolyn Mitchell Diaz which inspire mothers that they are the best. It emphasize on her utmost devotion and love for her child.
Mothers are like that: This book is written by Carol Carrick. The book throws light on different species of mothers. A special relationship between a mother and her child has been highlighted. It lay emphasis on how a mother protect her child from worldly dangers and is always their for her motherly support.
Dear Mom: Thank You for Everything: The book is an honest reflection of children's thoughts and love for their beloved mom. Bradley Trevor Greive has used beautiful pictures and true words as a tribute to mothers everywhere.
Love Lessons from My Mom: 'Love Lessons from My Mom' written by Kelly Corbet can be a prefect gift for anyone who has special feelings and thoughts for mothers. A quote from the book says it all, "A love lesson can come dressed as a baggage handler or a bag lady, from a family counselor or a drive-you-nuts member of your family A love lesson might even come in the shape of a flower growing in your backyard. It's all in the invitation. So if you're open to life, there's no telling what great joys you'll have over for tea or meet in a parking lot."
All That Matters: A Mother's Memories: This book by Janis Hogan tells us that most important moments in our lives are day-to-day and minute-to-minute. The author has written the book as an eyewitness. We get into the story the way she creates the picture. She evokes importance of special moments in our lives.
Other Popular Books on Mothers by foreign authors are:
Rosie by Anne Lamott
Journey into Motherhood by Leslie Kirk Campbell
I Love My Mommy Because by Laurel Porter-Gaylord
Are You My Mother? by P. D. Eastman
Mama, do you love me by Barbara M. Joosse
The Mask of Motherhood by Susan Maushart
The Book of Mothers' Wisdom by L. Hoffman
The Gift of Motherhood: 10 Truths for Every Mother
Clifford's Happy Mother's Day by Norman Bridwell
A Mother for Choco by Keiko Kasza
Mothers Day Books by Indian Authors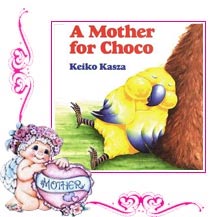 Janani: This book is an exemplary piece of writing by Rinki Bhattacharya. The book brings together autobiographical writings of women from many walks of life. Janani explores motherhood in detail. The book has proved to be an immensely readable volume not only for mothers and daughtersbut also for fathers and sons sharing vivid relationships.
Ma Keh Ek Kahani: This book is a set of 2 books.The book is specially meant for young kids. It carries a selection of 28 moral stories for children.
Mother India: Extremely fascinating book written by Gayatri Chatterji won itself a lot of critical acclaim not only in India but also in other countries. Mother India is highly a touching and serious melodrama which moves towards tragedy and hardships which a woman face when she loses everything form her husband to her home. This story was featured into a Bollywood film which was first to be nominated for Oscars.
Other Popular Books on Mothers by Indian authors are:
When Alamelu Shrugged by C.S. Lakshmi
An Outsider at Home by Neela Bhagwat
A Delicate Bondage by Pratibha Ranade
Her Infinite Variety by Roshan G Shahani
Motherhood and Me by Dhiruben Patel
My Mother, My Daughter by Maitreyi Chatterji
My Mother by Bharati Ray
Motherhood: Not a Joke! by Nabaneeta Dev Sen
The Cross a Woman Carries by Urmila Pawar
Learning to be a Mother by Shashi Deshpande