Mothers Day Poems
Once in a year, Mother's day comes, in order to lay emphasis on the role of our mother, she plays in our lives. None of us can deny the fact that our mother is one of the most important parts of our lives and that's one fact which is Universal in nature. This is the reason that Mother's Day is celebrated in every corner of the World with so much enthusiasm. Different people have different way of celebrating mother's day based on the country, religion and caste they belong to. While, some people think that gifting flowers or any of your mother's favourite gifts will be enough to make her feel how much you care, on the other hand, some feel that something real, something which you can communicate through words will definitely be great. Some make use of Mother's Day poems to shudder every part of their mother's heart.
If you fall under those who are looking out for heart-touching poems for Mother's day, then pause you search now. We have created this plentiful collection of Poems on Mother's day here at the website. Touch your mother's heart with these short and sweet sentimental poems on Mothers Day. You can also quote these unique lines on that special Mother's Day card and gift that you got for her. Your mother will surely appreciate the heartfelt emotions and treasure them forever.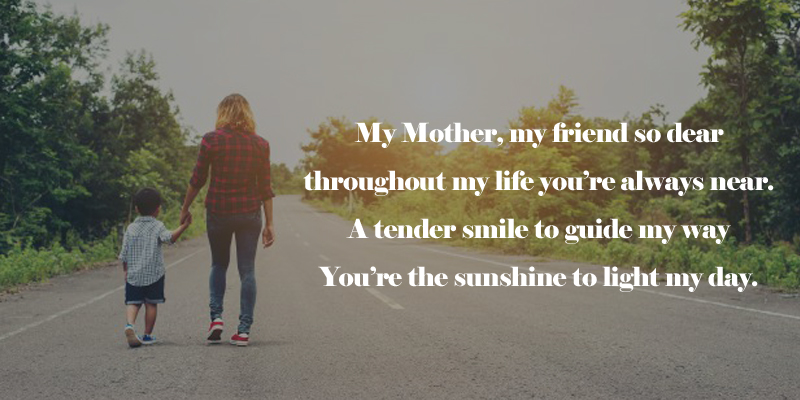 My Love My Mommy!!
You kissed on my chicks,
You hugged me when I needed,
You helped me laugh when I was down,
You are the only and only one, who is always around,
I felt so comforted when you wrapped me all around,
You are the one, who helped me deal through my wounds,
I cannot tell you Mommy why my heart feels so sound,
It's only you, who is the reason for all the happiness that I found,
Latest Shared Story
It was wonderful reading through this short yet mesmerizing poem. I was awe-struck the way it helped me to reignite the fire of love for my amazing Mommy. Indubitably it is a well-thought and a well written poem, apt for Mother's day.
My Mommy, The Hero of My life!
Ohh!! My wonderful Mommy,
I am your sweet little Tommy,
I love when, you bring me close,
I love when you comfort me through my hushed and perfunctory voice,
I love when you fiddle with my hair,
The way you feed me,
The way you read me,v Even with the Sun blazing in the sky,
Latest Shared Story
This one has made me to realise once again, the way my mother has helped me through all my thick and thin. I can say, definitely, the writer will be having a great sense of a great life. I will note this Mother's day poem down for future.
Short Mother's Day Poems
1. Mother you are an epitome of love,
A living example of compassion and affection,
I want to be around your miraculous shade,
Let me sit in your lap and close my eyes,
Happy Mother's Day
2. Mom, I just can't find a word to Describe,
The love and affection that you have given me,
I feel like the Prince of this home when you are around,
I wish I could get your shoulder to share in every birth!
3. Mom, I know, O cannot repay,
I just can obey,
Just obey you,
I love the way you love me,
I want you to know that nothing can ever replace that,
4. I have not seen a perfect human being as you,
You are the hope,
You are the desire,
You keep us all on the fire of your love and affection,
Funny Mother's Day Poems
1. Sorry Mom, your son could not sound like a poet,
I love you,
I desire you,
You are the truth,
You are so cute,
That's what enough from your non-poet son is
2. My dear mother,
I not the other,
I will love you further and further,
And, if you don't like my poem,
Don't blame me,
Blame the website from where I picked it,
Because, you know I am a bad writer,
3. I am gone try to write a poem for you, Mom,
On this mother's day I want to gift you something real,
But, Goshhh I am not able to move my pen further,
Leave it; I don't think I can complete it ever,
Hope you have understood my emotions,
Thanks for understanding Mom
Short Mothers Day Poems for Greeting cards
My Mother's Love
The biggest happiness,
In the Universe is my Mother's Love,
She makes my heart,
Feel the greatest Joys of life
A Mother's Lap
Happiness is when I rest in your lap
Happiness is when you kiss on my forehead
You give me all the power of Universe
Healer: A Mother's Love
A Mother's Love is the greatest healer
It heals and helps you feel,
Feel, all the happiness in the Universe
Mother – A ray of hope
A mother is a ray of hope,
She can nurture all the areas of your life,
She surrounds you with all the hope and happiness
Mother's Blessing
A mother's blessing is incredible,
She is the reservoir of love and affection,
Bless yourself with this blessing
Mother – The Sunshine
A mother is the Sunshine,
A mother is so much divine,
She brings the shower of love,
To make you blessed with power,
A Wish for my Mom
I wish, all my mother's wishes come true,
I wish, she finds her way,
I wish, she is loved the way she loved,
I wish all her wishes get fulfilled
My Wonderful Mother
O Mother, my mother,
You are fine,
You are so divine,
I am my truest self when,
My wonderful mother is around
A Wondrous Mother's Day wish
I wish my Mom,
The happiest life,
The joyous surrounding,
On this Mother's Day,
I wish my mother,
All the love and affection in the Universe,

Mother's Day Poems for Grandmother
Grandmother – A superwoman
How do you do it?
O' Grandma, how do you bring so much love?
Where from you bring this power to care?
You make me feel loved,
You make me feel cared for,
You have all the power of the Universe,
Love is my Grandma
It's only love that comes to mind,
When I recall your name,
Your power to love,
Make you extremely powerful
Happy Mother's Day

My Grandmother's Lullaby
I have grown up listening to your lullaby,
What a wonderful feeling it is,
To rest in your lap,
And, feel lost in your lovely voice,
Happy mother's Day Grandma
Mothers Day Poems for Mom
Mother's Day wish for Mom
Here is my perfect Mother's Day wish for my Mom
She is the strongest shield of my life,
She is the brightest light of my life,
She loves and I live the best,
Happy Mother's day to the strongest woman I have ever seen!
Mother – The Powerhouse
A mother is the powerhouse,
She is love, affection, power and happiness
A mother's aura, it makes you strong,
I wish her all the Joy of the Universe on this Mother's Day
other's Lap – The safest Place
I know, you are around,
And, I am safe, I am loved,
I know, it's your lap,
And, I am safe, I am cared for,
O' Mom I find your lap the safest place in the Universe
Happy Mother's Day
Mother's Love: Paradise on Earth
And, the real paradise on earth,
It's a mother's lap,
And, the happiness on the Earth,
It's a mother's love,
And, the beauty of living,
It's a Mother's eyes,
It's too hard to describe a mother,
I wish my mother the best ever Mother's Day
Mother's Day Poems for Elder Sister
An elder Sister – The Perfect Mother Figure
An elder sister, she cares like a mother,
She teaches like a mother,
She hugs you affectionately like a mother,
She is the perfect Mother figure
Happy Mother's Day to all elder sisters out there
Love of my Elder Sister
She is not the mother,
But, my sister;
She had always acted like my mother
She is been the pillar of my strength
Thank you Sister for always being there
Love you!!
My strength, my sister
And, whenever you are around,
I don't miss mommy,
You are so perfect,
I don't know what makes you so perfect,
I am the apple of your eyes,
And, I am yours
Happy Mother's Day Sister
Mothers Day Poems for Mother-in-law
My Love my Mother-in-law
I have never thought,
You would be this loving,
I never thought,
You would be this caring,
You make me feel loved,
You make me cared for,
Every time I need you,
Happy Mother's Day
Thank you Mother-in-law
May be it's the law connecting us,
But, your love has connected my heart,
Connected my heart with yours,
I just want to thank you, Thank you for every little thing,
Mothers Day Poems for Step-Mother
Happy Mother's Day Step-Mom
I may not be connected to you by blood,
But, I feel that connection by heart,
Your love had established the deepest connection,
You are just my Mom,
There isn't any step to cross

Love you Step-Mom
And, it was so magical,
How you brought about so much love,
So much of love in our relationship,
It was magical;
How you became a part of my life,
It was magical;
How you accepted with so much affection,
Love you step Mom
Plethora of Wishes for my Step Mom
I wish you all the happiness,
I wish you all the love,
I wish you all the affections,
I wish you all the freedom in life,
You are not my blood mother,
But, you are my soul mother,

Mother's Day Poems from Daughter
1. I have seen you happy,
I have seen you sad,
I have seen you love,
I have seen you laugh,
And, every part of it has made me strong,
I have learnt from you,
I have lived with you,
Mother's day is another chance for me to say thank you,
Every cell of my body wants to say Thank you!!
2. When I was a child,
I did not have that mind,
But, I think today,
I speculate today,
It was great of you,
I got fate of a few,
You surrounded me with love,
You bounded with your affection,
I wish you a wonderful day,
On this Mother's Day
3. The ups and downs with you were fine,
But, the joy and happiness are not so divine,
The storms that came were happiness with you,
But the shower of Joy felt just a few,
I want to be just a part of you,
I want to look like you,
Thanks for being my mother
Happy Mother's Day
Mother's Day Poems from Son
1. This is the message of love,
That I am sending for you, Mom,
This is a message of affection,
That I am sending to show my connection,
Love me and never leave me,
I am incomplete without you,
I am do not exist without you,
Hey mom, keep loving me,
Keep being around me,
It gives me contention,
It removes all my tensions,
Happy mother's Day
2. Hey Mommy, you included in my world,
You brought so much happiness in my life,
You brought so much love in my life,
You are my Sunshine,
You make my world so fine,
I love you for what you are,
I love you for what I have,
3. You are the precious diamond in my life,
You are the gift of my desire,
You love and so I grow,
You love and so I live,
You love and so I believe,
There's happiness in my world just because of you,
There's Joy all around just because of you,
Keep in my heart; keep me in my life,
That's what I will desire!!
List of Poems on Mother's Day