Mothers Day Poems
A Mother...

When you're a child she walks before you,
To set an example.
When you're a teenager she walks behind you
To be there should you need her.
When you're an adult she walks beside you
So that as two friends you can enjoy life together..
Author Unknown

I Miss You, Mom
I used to think that people didn't need
their moms so much after they grew up.
But I've realized that's not true.
So often, when I'm making a decision,
I wish you were here
so I could ask your advice.
And so many times,
when something happens
that I know you would enjoy,
I wish you were here
to share it with me.
Now that I'm older
I've realized how special our relationship is.
And while I'm thankful for this bond,
somehow it makes me miss you more..
Mom, I love you so very much.
Renee Duvall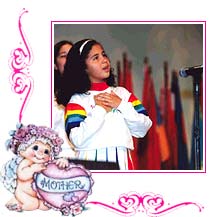 If I Knew As A Child
If I knew as a child what I know now, Mom,
I probably wouldn't have made things
so hard for you.
I would have understood
that you were looking out for my best interest.
even though it may not have seemed so at the time.
I would have known how difficult it is to let go,
to stand back and let someone you love
learn from their mistakes.
I would have realized
how fortunate I was to have a mother
who was always there for me,
even after an argument,
even after I'd said things
I shouldn't have.
While it's too late for a lot of things
it's not too late for me to tell you
that I appreciate how loving you are,
how giving you've always been
and that even though
I may not always be good at showing it,
I love you very much.
Renee Duvall
I Wish I Could Tell You, Mom
I wish I could tell you, Mom
how much you mean to me....
But there are no words to say
how much I admire you...
how much I appreciate you...
how much I thank you
for everything you've done.
Author Unknown
Thank You Mom
I know how often I took you for granted
when I was growing up.
I always assumed you'd be there
when I needed you...
and you always were.
But I never really thought about what that meant
till I got older and began to realize
how often your time and energy were devoted to me.
so now, for all the times I didn't say it before,
thank you, Mom...I love you so very much!
Author Unknown

Your Mother Is Always With You...
Your mother is always with you...
She's the whisper of the leaves
as you walk down the street.
She's the smell of bleach
in your freshly laundered socks.
She's the cool hand on your brow
when you're not well.
Your mother lives inside your laughter.
She's crystallized in every tear drop.
She's the place you came from,
your first home...
She's the map you follow
with every step that you take.
She's your first love
and your first heart break...
and nothing on earth can separate you.
Not time, Not space...
Not even death...
will ever separate you
from your mother...
You carry her inside of you...
Author Unknown
Mothers Day
A Mother loves right from the start.
She holds her baby close to her heart.
The bond that grows will never falter.
Her love is so strong it will never alter.
A Mother gives never ending Love.
She never feels that she has given enough.
For you she will always do her best.
Constantly working, there's no time to rest.
A Mother is there when things go wrong.
A hug and a kiss to help us along.
Always there when we need her near.
Gently wipes our eyes when we shed a tear.
So on this day shower your Mother with Love.
Gifts and presents are nice but that is not enough.
Give your Mother a day to have some peace of mind.
Be gentle, be good, be helpful, be kind.
Happy Mothers Day.
Carol Matthews
Mom And Me
Best friends forever mom and me
picking flowers and climbing trees.
a shoulder to cry on secrets to share
Warm hearts and hands that really care.
Author Unknown
I Said A Mother's Prayer For You
I said a Mother's Day prayer for you
to thank the Lord above
for blessing me with a lifetime
of your tenderhearted love.
I thanked God for the caring
you've shown me through the years,
for the closeness we've enjoyed
in time of laughter and of tears.
And so, I thank you from the heart
for all you've done for me
and I bless the Lord for giving me
the best mother there could be!
Author Unknown
My Mother Kept A Garden
My Mother kept a garden,
a garden of the heart,
She planted all the good things
that gave my life it's start.
She turned me to the sunshine
and encouraged me to dream,
Fostering and nurturing
the seeds of self-esteem...
And when the winds and rain came,
she protected me enough-
But not too much because she knew
I'd need to stand up strong and tough.
Her constant good example
always taught me right from wrong-
Markers for my pathway
that will last a lifetime long.
I am my Mother's garden.
I am her legacy-
And I hope today she feels the love
reflected back from me
Author Unknown

A Precious Mother
Mom You've given me so much,
Love from your heart
and the warmth of your touch.
The gift of life and you're a friend to me.
We have a very Special Bond
which only comes from God...
I'm sure you agree.
As a child I would say Mommy I Love You,
Now you're my Mother so dear
I love you even more
with each and every new year.
If I could had chosen,
I would have picked no other.
Than for you...to be my lifelong friend
and Precious Mother.
Author Unknown
My Mother
My Mother, my friend so dear
throughout my life you're always near.
A tender smile to guide my way
You're the sunshine to light my day.
Author Unknown
As I Look Back...
As I look back on my life
I find myself wondering...
Did I remember to thank you
for all that you have done for me?
For all of the times you were by my side
to help me celebrate my successes
and accept my defeats?
Or for teaching me the value of hard work,
good judgement, courage, and honesty?
I wonder if I've ever thanked you
for the simple things...
The laughter, smiles, and quiet times we've shared?
If I have forgotten to express my gratitude
For any of these things,
I am thanking you now...
and I am hoping that you've known all along,
how very much you are loved and appreciated.
Author Unknown