We often feel that humanity is hard to find, but in every sphere of life, you will find people who will present before you the larger picture of life. Sushmita Sen is one of the examples who has proven that people who actually want to make a change do exist.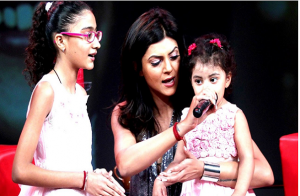 One can imagine how tough it is for women to take care of their children alone! And, Sushmita was that someone who became a single mother on her will. She is a successful single mother of two adopted girl children and that is quite courageous for women especially in a country like India.
The story of her Adoption and of being a Single Mother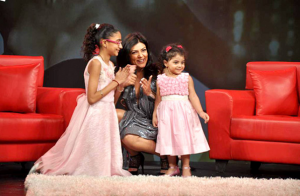 A few years before only those couples, who sue to some reason could not have their biological child used to go for the option of adopting a child. But, thankfully, today it has expanded its horizon and even the people who have their own children are opting to adopt a child. And, there are a few great one' who are even adopting abandoned children to become a single parent. Sushmita Sen is the aptest example of that case, who has been a successful single mother of two adopted children.
A Brief Description of her Life
Sushmita does not only hold the title of Miss Universe for her outer appearance but the beautiful soul that she is born with is also incredible. She was introduced to the world when she became Miss Universe in 1994. And, after her fame as Miss Universe, she started getting movie offers and gradually she landed into Bollywood. Throughout her career, she has been a recipient of several awards including Film Fare Award, IIFA Award, Star Screen Award and many more. Apart from that, she is also the recipient of Rajiv Gandhi Award in 2006 for her work in Bollywood.
It may have been tough for her to fight the battle to become a single mother, but she never gave up on her dream and love for being a mother. She had a great love for kid's right from the age of 18 and then only she had decided to adopt a child. Her courage has given women a new and progressive way of life by adopting girl child and becoming a successful and happy single Mother.
The thing that makes it feel incredible is the way she looks happy and joyous being a single mother. It was quite tough for her to pursue her dream of adoption but she fought all the odds.
Sushmita's first Adoption
She adopted her first child in 2000 when she was merely 25 years old and her act inspired millions of people around the world. It was a girl child and she named her Renee! She has often been spotted saying, "She's not born from my stomach but from my heart." She has always been a caring and loving mother but that did not stop her from completing her career obligation.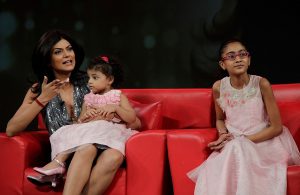 She is often accompanied by Renee for fashion events and various other major inaugurals. Renee also dreams to take part in the Miss Universe Pageant and make her mother happy by bringing home the trophy. Sushmita had proudly built for her a beautiful family with her two beautiful daughters.
Sushmita's Second Adoption
After 10 years of her first adoption Sushmita stunned people by adopting her second girl child in 2010. She named her Alisha who was just 3 months old when she entered into Sushmita's world. Alisha was a quiet baby and Sushmita was happy shopping for her little Angel! Renee, Sushmita's first child also was quite excited to welcome her sister.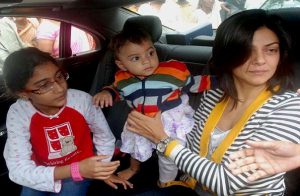 This very thought of embarking on to this journey makes her special and it proves that title of Miss Universe that she won several years back was something that she actually deserves. In all this, she has brought not only happiness to the children but also to herself with a sense of having been able to make a difference. She is a perfect example of a mother and she deserves to be celebrated on Mother's day 2018.